Each year, our team takes the time to predict marketing trends that will be on the rise for the year ahead. What trends do we think the new decade will kick off with? Continue reading for 4 trends you'll want to be sure to look out for in the digital marketing space.
1. Brands begin to incorporate more "with"
Our managing director, Michelle, is predicting that we see brands shift over to forming meaningful connections with their audience to stay relevant. Here's what she has to say about the trend:
As a lot big-box retailers have continued to struggle and haven't been able to find as much relevance in today's digital commerce landscape, we find a new disruption brewing in this space. Enter direct with consumer, the concept of taking the idea of direct to consumer (D2C) even further.
This concept takes brand building to the next level. We're not just talking about brands that solely engage with customers on social media, chats, emails, and surveys any more. We're moving to full on relationship-based brands where the like-minded communities, movements, and customer relationships are at the core of the products/services offered through consumer guidance as well as consumer input into future product development.
The new concept was pioneered by Pattern Brands, formerly Gin Lane, earlier this year with the notion to help bring more enjoyment to our everyday lives. Their first brand launch, Equal Parts, is all around getting young, working professionals in the kitchen. And helping them do so through text-based coaching to truly build rhythms and know-how in the kitchen.
I believe this new "with" notion definitely has transformative properties in the commerce and retail space. But it should also really make all of us think, even those not in the D2C space. How we can incorporate more "with"? How do we build a community-first mindset in our space? How do we harness like-mindedness that we can tap into to make things better not just for ourselves, but for our local community and the world as a whole?
All of this "with" is where 2020 and beyond are headed, and honestly, I love it!
2. Contextual advertising with a technologically-enhanced approach
Jacob, our front-end specialist, predicts that ad tech will shift back to contextual advertising due to cookie-based tracking no longer being a viable solution. Here's more on what he predicts:
In light of privacy changes in our industry (GDPR, California Consumer Privacy Act, etc.), online advertising is in flux, and cookie-based targeting is no longer a viable solution. I think we are going to see a resurgence of contextual advertising as well as new solutions to enhance this approach in the forms of machine learning and AI.
What does this mean for your advertising strategy in 2020? You may want to prepare to get back into doing heavy keyword research for your target audience to stay relevant. This may sound like a regression, but the difference will be that we have better supplemental technology to make contextual targeting even more effective.
3. Changes in the marketing attribution model on analytics platforms
Our technical director, Justin, predicts that it will become difficult for marketing attribution models to measure all of the touch points it used to due to rising privacy concerns. Here's his explanation on his prediction:
Since the privacy issue around Facebook, companies such as Apple and browsers like Firefox, are taking steps to protect the end users from other platforms tracking them around the web. One of the steps they've taken is changing the way cookies are stored, or even allowed, by websites.
For example, a browser may now block the Facebook Pixel or Google Remarketing tag if it thinks it might not be good for the end user. Another tactic is the browser changing the duration of a cookie in how long it can be set. This will directly affect how user engagement is tracked in analytical platforms.
Here's an example of how the data would be skewed:
If a cookie is initially set to last for 2 years, but the browser chooses to change the value to 7 days, then the same user will be tracked as a new user on analytics reports if they return to the site in 8 days. Prior to this change, they would have been tracked as a returning user. Therefore, the reports are no longer as accurate as they were before.
So what does the marketing attribution model have to do with this? I'm glad you asked. The attribution model is how each marketing channel is assigned credit to your conversions.
For instance, if you have an ecommerce platform and you want to assign attributes through each channel (social, email marketing, display ads, etc.), then you would rely on cookie-tracking and your analytical platform to know that user is the "same" user. But, if the cookies aren't there, then they are marked as a brand new user and not the original user you emailed or did remarketing on.
Starting to panic? Don't worry, not all is lost. Analytical platforms are adjusting for this rising issue. There are other ways to get around solely relying on cookies as well. But, I do believe the ability to accurately track and measure the attribution model will be a heavy push and the next trend for analytical platforms in 2020.
4. Social commerce will become the new norm
Last but not least, my prediction! As the team's content specialist, I'm always noticing the latest content trends whether it's on social, email, or blogs. Something that I saw a huge surge in 2019 and expect to see even more in 2020 is social commerce. Here's more on that:
It's no secret that social commerce has been on the rise over the past few years. In fact, from 2016 to 2018, social referrals to retail ecommerce sites grew 110%. While ecommerce and social media advertising combined is clearly a great formula, the main struggle while creating these ads is trying to get the user to leave the platform to convert into a customer.
That's where social platforms stepped in and created a social commerce experience for their users. This concept means that the user can purchase products directly from social media platforms without ever interacting with the retailer's website. Pretty wild, right?
Let's take a look at Instagram's Checkout feature. Right now only select brands are able to use this feature to sell their products.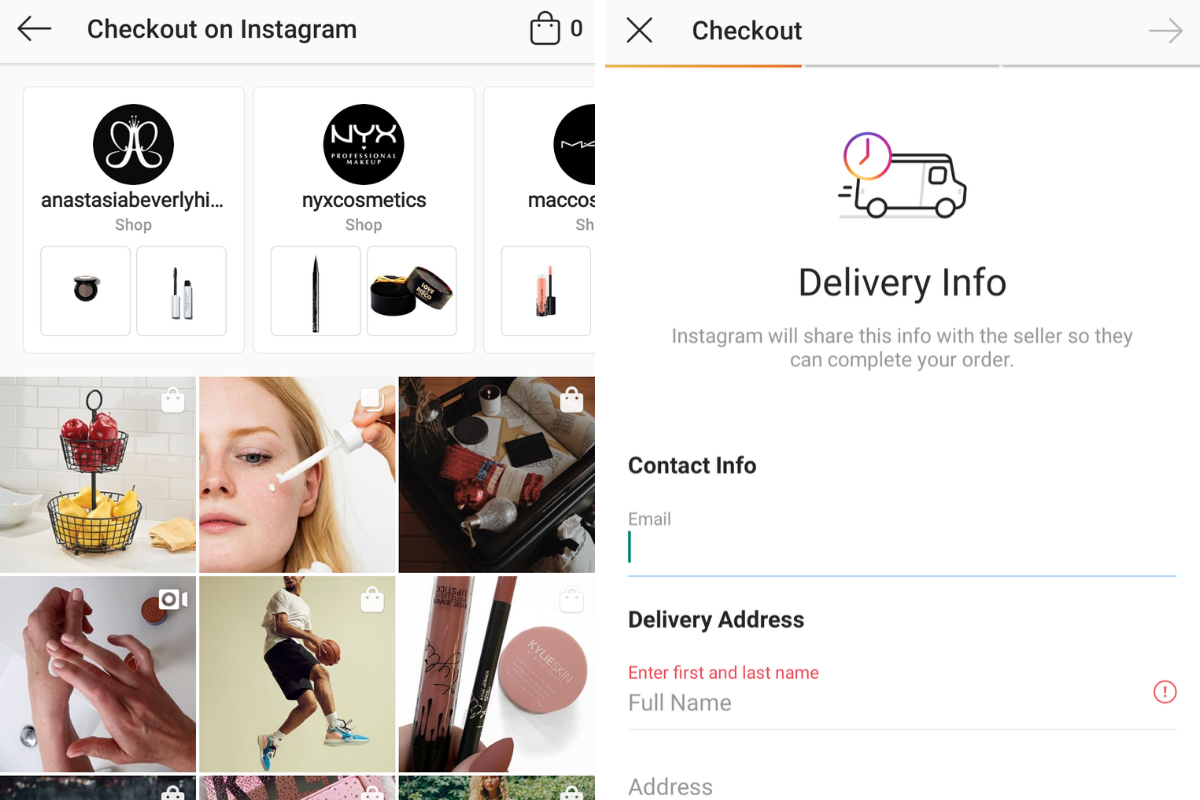 You can scroll through each brand's storefront on Instagram, learn details about specific products, and go through the checkout process all on the same platform. I believe that this is just the beginning of a trend that we'll see over the course of the next decade.
What is the main benefit of social commerce? Social commerce will help decrease abandoned carts on websites and lead to an increase in conversions.
Even though Checkout isn't available for all retail brands just yet, there are still other social commerce features that brands can use on Instagram such as product tags, product stickers, and the 'Shop Now' buttons.
Who are the other big players in the social commerce game? Facebook and Pinterest are two of the other social media platforms that provide a great social commerce experience for their users and I expect to see even more features added in the coming years.
I truly believe social commerce will become the new norm in 2020 and that ecommerce brands need to make sure that they are making the most of the features that are already out there.
The digital marketing landscape is constantly changing, so our predictions are here to help you know what to expect for the upcoming year. Be sure to keep these trends in mind when you are planning out your business' marketing strategy for next year.