Thankfully, 2021 is almost here! 2020 was a transformative year for the digital marketing space since we all had to create new ways to navigate during a pandemic. The effects of these changes will be sure to shape up some interesting trends for 2021. Here are 6 trends that our team is predicting we'll see next year.
Digital Marketing Trends for 2021
1. The rise of inclusive marketing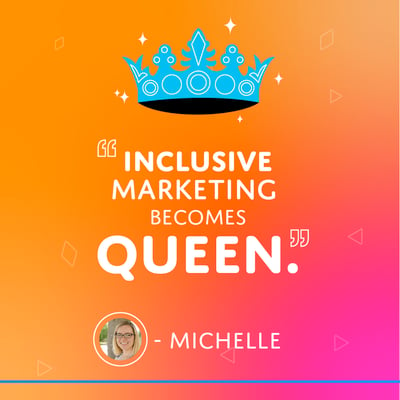 Michelle predicts that inclusivity in ads will not just be a trend in 2021, but must be a fundamental shift that occurs within small businesses and marketing departments alike.
One positive thing that came out of 2020 is that businesses, communities, and individuals helped bring more awareness to the social injustices that minorities continue to face every day in America. What does that mean for small business owners and marketers in 2021? We must stop blindly funneling down our business' offerings and marketing efforts because that is resulting in us hindering our growth.
When surveyed, 64% of people were more likely to consider, or even purchase, a product after seeing a diverse or inclusive ad. Michelle says, "We must be more inclusive. It's easy to put our heads down and blinders on as a small business owner. We get strategic and focused solely on our best-fit customer or our most profitable product/service offering. But to be more responsible and forward-thinking in 2021 and beyond, small business owners must purposefully and intentionally make inclusivity a part of any company's entire strategy, marketing included."
She continues, "I have faith in the greater good and the caring hearts of my fellow small business owners and marketers alike. Let's make inclusive marketing the biggest change in marketing in 2021. We can be a catalyst for change and a better more inclusive future."
2. The increase of Instagram Reels creation and the decrease of TikTok usage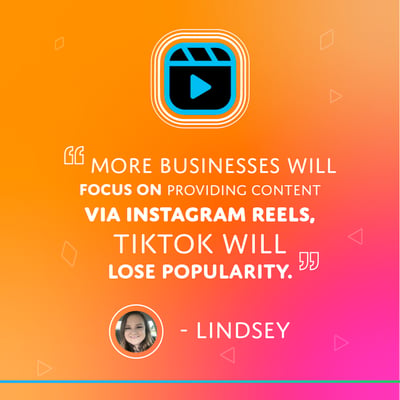 Lindsey thinks that in the age of COVID-19 and quarantine, social media presence will be more important than ever for businesses to attract and retain loyal customers. Particularly, she thinks we will likely see a lot more businesses utilizing the Reel feature on Instagram.
Video platforms like Vine and later TikTok have exploded in popularity through the years. Instagram Reels provide an outlet within the Instagram platform to offer a similar feature. Reels allow users to create fun, quirky, and entertaining video content to delight their followers. They can be used for educational purposes to explain the benefits of products or services and they can be used for more entertaining content as well.
From adding music and bold text to all the other engaging features, there's so much potential for this tool to grow. Since the Reels are integrated within Instagram, users won't have to switch apps to view the content. Influencers and businesses who haven't already established a TikTok account also wouldn't have to stress about having to rebuild their account from the ground up again since they likely have already built their Instagram base.
Lindsey adds, "It would be challenging for TikTok to compete with that amount of simplicity and synchronization. As such, I think TikTok's popularity will decrease and Reels will take their place. These bite-size creative clips are here to stay in 2021!"
3.
The upsurge of augmentative reality in digital conferences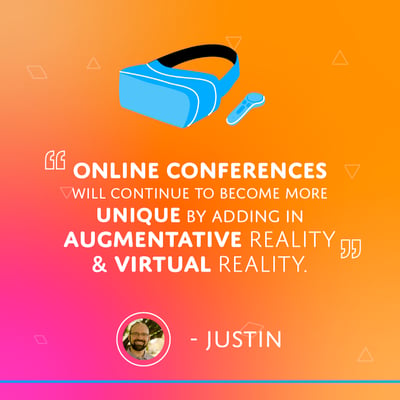 Justin predicts that over the course of 2021, more conferences will move away from the webinar formats, such as Zoom, and into a digital conference experience with booths and interactive rooms.
COVID isn't going away; it's just changing the way we do things in our lives. Creative companies, like MootUp, will continue to push this experience and make it better. For example, they can use new devices and technology like the Oculus Quest 2. Additionally, other webinar platforms, like GoToMeeting, will start incorporating AR/VR into their offering to make attendees more engaged. This will either be done by acquisition or internal development.
Justin says, "The transition over to VR/AR will allow people to experience the human connection and I think that is what will continue to evolve the digital space and make it better. I've already attended one conference that had a VR-like component and it was very interesting to experience. Both good and ... odd."
4. The rise of social commerce
As of 2020, social commerce is a 89.4 billion market, and it's only predicted to grow more. Having to socially distance this year led to many people relying on social media to communicate with their friends and family. It also meant that people needed to purchase things online more rather than in person.


Being able to buy items directly on social media platforms, such as

Facebook

,

Instagram

, and

Pinterest

, allows the consumer to stay on their preferred social media platform and get their items.

Jasmine says, "The plus side to this is clearly more sales, but it does make you wonder about the future of original online advertising that leads users to your website to make a purchase. Regardless, I think the era of social commerce is just getting started and that it will only continue to become the new norm in 2021."
5. The mark of the beginning of virtual healthcare services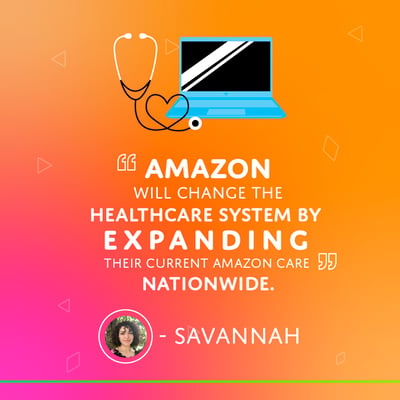 Due to the pandemic, the convenience of online ordering, curbside pickup, and even telehealth services have increased and become a necessity. Specifically, Amazon released AmazonCare, the company's online medical clinic, for its employees and their dependents. Savannah predicts that Amazon will expand their online clinic and make a huge impact in the healthcare system.
She says, "Due to our for-profit healthcare system in America as well as the pandemic, companies and pharmacies are moving to online subscription services now more than ever. I can see all of these contact-less services still being utilized and expanded much more post-pandemic."
6. The necessity for all businesses to operate digitally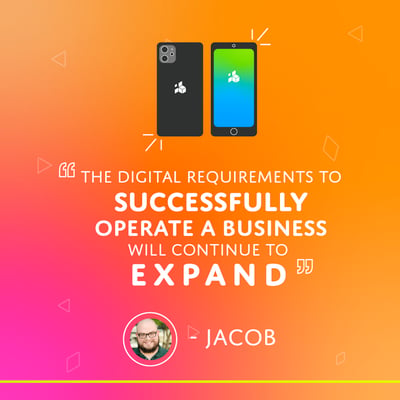 The pandemic thrust businesses into the digital age, whether they were ready or not. Online ordering, curbside service, delivery, or support for third parties to provide these services became a virtual requirement for doing business in 2020.
With a sudden—nearly total—adoption of these digital services, the technology supporting them has grown by leaps and bounds. But we're only just getting started. Jacob predicts that these virtual requirements to operate a business will only continue to grow.
He says, "Technology moves at a quick pace, and these new services are here to stay. I predict we will continue to see many innovations as the technology adapts in 2021 and beyond."
Getting ready for 2021
These are just a few of the many changes that 2021 will bring to the digital marketing world. As 2020 has shown us, we can never truly predict what's going to happen. But to stay as prepared as possible, be sure to keep these trends in mind when you are creating your marketing strategy for next year.
Pin this post so that you can refer to it later:
Are you ready to expand your business with eCommerce, but worry about the cost? See if our unique Vinyl FrameworkTM is the right fit for your business!