Boxing for a Cause is our way of giving back to the community. Each month, we donate to a nonprofit picked by one of our team members. Our content specialist, Jasmine, is kicking off 2018 by selecting Therapy Partners, Inc. to receive a donation!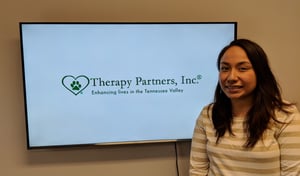 About Therapy Partners, Inc.
Therapy Partners, Inc.'s mission is to serve our community by providing certified and registered teams of handlers and animals to work as a therapeutic tool in a variety of settings. Specifically, they provide Animal Assisted Therapy with certified dogs, cats, and rabbits to children and adults in medical, educational, and long-term care facilities around the Tennessee Valley.
Why Jasmine Chose Therapy Partners, Inc.
Jasmine chose Therapy Partners, Inc. because she has a soft spot for animals, especially dogs. She says, "I strongly believe that animals provide emotional support and comfort. This nonprofit dedicates its time to share that gift with those in need in our community. They provide five service programs using a highly-trained therapy team, consisting of a volunteer handler and their animal. It was a no-brainer to select such an excellent cause!"
Learn more about Therapy Partners, Inc. and how you can donate to them too. Be sure to check back to see which nonprofit our team selects to donate to next month!