Cares for a Cause is our way of giving back to our local community. Every month, one of our team members chooses a local nonprofit to receive a donation. To end 2020 on a high note, Justin chose The EarlyWorks Family of Museums for December!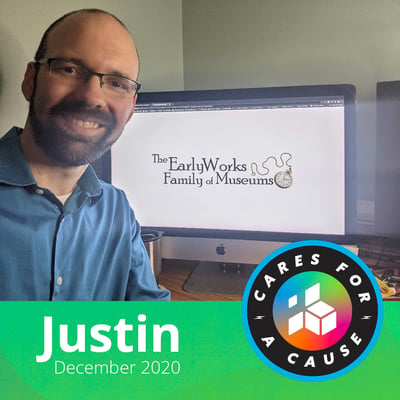 About The EarlyWorks Family of Museums
The EarlyWorks Family of Museums consists of three museums: Alabama Constitution Village, the Historic Huntsville Depot, and the EarlyWorks Children's Museum. These museums celebrate Alabama's early 19th-century history.
Their education mission is to showcase Alabama's history through hands-on experiences, storytelling, and more!
Why Justin Chose EarlyWorks
Justin says, "I selected the EarlyWorks as my pick because of the value and education they bring to our community. I've always enjoyed taking my daughter to their family of museums, as each one has a unique offering. We have a blast and I catch myself playing with all hands-on learning activities."
Learn how you can give back to The EarlyWorks Family of Museums, too! Be sure to check back next year to see which nonprofit our team chooses to kick off 2021!