Are you looking for new ways to get your content in front of more people?
Content syndication can help!
Syndicating your content allows you to reach a larger audience and drive more traffic back to your own site, without tons of extra effort and money.
Queue the singing angels... 👼 🎶
In this article, we'll explain what content syndication is and how you can use it to promote your content.
Plus, we also provide a list of top syndication sites to jumpstart your efforts.
Read on to learn more!
What is Content Syndication?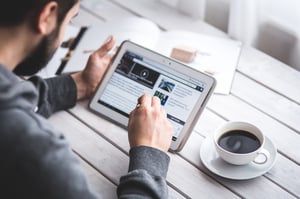 Think of your favorite national newspaper: when it invests in a good piece of investigative journalism, does it print that piece once then forget about it? No! It prints the piece in the daily paper, re-posts it to the website, sends out links via email, re-works it for social media blurbs—and most crucially, sends it for syndication to news wires, partnered blogs, and other publishing outlets.
In a nutshell, that's syndication: Distributing existing content for publication in other venues and contexts. In some cases, payment may be involved, but syndication agreements are usually drafted with the sole goal to spread content further and boost view counts.
Syndication agreements may be one-way or mutual, but in any scenario, the posting party gets the benefit of content that's "new" to their venue, while the writing party gets the benefit of more exposure. Most importantly, any marketing messaging that has been inserted in the content remains, so the writing still does the work you need it to as a marketing director or manager.
But how do you get started with content syndication, and what steps are required?
Here's what you need to know.
Why You Should Syndicate Content
The first reason to syndicate your content is the most obvious: to ensure it's read by more people. Remember that an agreement to republish your writing on another site gives you access to that site's entire audience. In an ideal scenario, that audience will read your content and either enjoy it enough to search for your other work directly or simply follow the links you've strategically included in the text to direct them toward your own sites.
Additionally, syndicating content lets you get the most mileage out of your top performers. Why dwell on the huge numbers pulled in by last season's best blog post? Send that post out to new venues, then watch it pull in huge numbers all over again!
Indeed, "double-dipping" your top performers isn't just encouraged for successful content marketing, it's all but required to find the largest possible audience.
How to Syndicate Content
Choosing where to syndicate your content is all about finding a good match between your topic space, the publisher, and their audience. Fortunately, most of the biggest online publishers in any market rely heavily on syndication, so your odds of finding a match are good.
In general, you always want to maximize the impact of each syndication arrangement, so focus on the best websites first. Most venues that deal with syndication are very open to new submissions, so you shouldn't struggle to find good prospects.
Here are some pro tips on submitting your content to a syndication site:
Always include links to previous top-performing blogs from your website or guest posts on other websites
Explain why you think there's a crossover between their audience and yours
Tell them how their audience might benefit from reading your content
Start building relationships by guest posting on other sites, especially if your current brand doesn't have any name recognition
Make sure your brand name is strategically sprinkled throughout the text and backlinks to your website
List of Syndication Venues
These are just a few of the many available sites for syndication that also have a large audience:
Medium
Medium is the reigning ruler of respectable self-publication, making it a great choice for any syndication effort.
LinkedIn
LinkedIn allows you to publish articles directly to your profile about your expertise and interests. This currently only works when published from a personal profile, not a company profile. However, when a post is published, it is shared with your connections and followers and is searchable on and off LinkedIn, depending on your privacy settings.
Reddit
Your success when syndicating on Reddit will depend on the specific community you're posting to, but there are a variety of options for link sharing and contact gathering.
LifeHacker
An all-purpose lifestyle and instructional content hub, LifeHacker relies heavily on syndicated content and is always open to new partnerships.
Huffington Post
HuffPo has always relied on guest writers and syndicated content to fill out its catalog and remains one of the web's biggest sources for distributing syndicated writing.
Facebook Instant Articles
With Facebook's instant articles tool you can easily re-publish existing writing.
BuzzFeed
Though you'll need to build a reputation within BuzzFeed's existing community to achieve high exposure, it's a great way to syndicate for youth and internet-oriented brands.
Business2Community
B2C is one of the oldest and most popular syndication and re-publishing venues still in operation today.
By building partnerships and seeking good syndication opportunities within your topic space, you can ensure your best-performing work is able to find new audiences in the wider world.
Want to get started on finding out which pieces of content to republish on syndication sites?
Our free workbook guide, Content Marketing Made Easy, walks you through how to audit your content to find your best pieces and has room for you to save contact information for your favorite syndication sites. Overall, our guide takes you through each step of creating a smarter content strategy. Click below to check it out and get it today!