Google Ads is an effective way to generate leads and sales for your business due to its customization and targeting features. However, you can lose money just as quickly as you can make it if you don't use these ads properly. Learn from the common mistakes we see, so that you don't make them yourself!
Top 4 Mistakes We See in Google Ads
1. Not Setting Up Conversions
Setting up conversion tracking in Google Ads is one of the most frequently skipped configuration steps, yet also one of the most important. When using conversion within your Google Ads account, you can optimize the bidding around your website goals.
By setting this up, Google Ads learns what type of person is more likely to convert and then starts showing your ads to more qualified converters, which will ultimately decrease ad spend and cost per conversion.
Setting up conversions is a step that shouldn't be skipped, whether you are an ecommerce site or not. To configure your conversions correctly, you can import Goals from Google Analytics. Just be sure to edit the details of the conversions so Google Ads knows what drives leads, sales, etc. since you can set up ad campaigns to drive specific categories of conversion.
Another setting to confirm with your conversion actions is that it is "Included in Conversion" counting. Also, you might not want to count "Calls from Ads" as a conversion because it could just be current customers just looking for a phone number, so that data will not be as accurate.
2. Having Out-of-Date Ads
Having ads that are out-of-date is a costly mistake that is very easy to make. If you just set and forget your ads, you will inevitably be missing out on clicks. Why? Because Google Ads is continuously rolling out new ad formats and features to existing ads. So if your ad isn't updated, it has a chance of not maximizing its full potential and therefore losing clicks.
For example, one of the latest additions to Google Ads is responsive ads, which can fit in just about any ad space available. You'd be missing out on a lot of opportunities if your ads are in an out-of-date format. Learn about all of the different ad formats and where they can be displayed.
EXAMPLE:
Here's an example of an ad that doesn't have updated text. It's not funny when money is lost and your ad reads 2015 when it's 2019! Keep those ads up to date and relevant.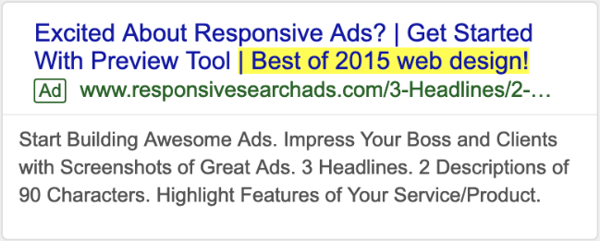 3. Not Adding in Ad Extensions
Another common mistake we have seen is users not adding Ad Extensions to their campaigns. Ad extensions add additional links and details to your ads, which can help drive more clicks and conversions. That being said, you don't want to miss out on having extensions relevant to your business on your ad campaigns.
EXAMPLE:
Your business' physical location could show up in the Google search engine results if you added in the Locations extensions. While that may seem like a small detail, it actually provides the user with relevant information before they click through, which means the users who do click through are more likely to be higher-quality leads.
See the full list of extensions on Google's support page. Pick and use the best ones for your business goals. Once you add them, be sure to keep them up to date. Keep yourself from getting overwhelmed by tweaking a few each week.
4. Not Having Multiple Ads Per Ad Group
The last mistake on our list is users not having multiple ads in each ad group. Make sure that you have at least 2 ads per group (that's what Google recommends) so that Google can learn which ad converts best.
After you analyze your data and determine the best-performing ad in your ad group, you still need multiple ads. Now you will display your highest-converting ad, plus a tweaked version of that ad. If you don't have multiple ads, then you are missing out on discovering which ad drives the highest conversions for your business. There's always room for ad optimization!
These tips ensure you are using your ad budget wisely. By avoiding these 4 mistakes, you will be making the most of your ad campaigns through Google Ads.
If you want your ads to work harder for you, then sign up for a free audit of your online ad performance. Our advertising experts will highlight specific areas of improvement for your brand's ads!