Most of us have….A LOT...more time at home right now. Why not use this extra time to improve your marketing knowledge and strategy?
There are tons of training resources out there. So to help you get past the hurdle of filtering down what courses to take. We've compiled a list of the best training resources for you to pick from.
And best of all, our list of marketing training resources include options to learn while you're strolling your neighborhood instead of your morning and afternoon commute or while you're behind your desk with more free time to work on your marketing and strategy.
Podcasts for on-the-go marketing training
Who says you can't multi-task!! You just have to have a smart strategy with what you're multitasking on! Turn your would be morning commutes into a walk around your neighborhood (if you are in a location where this is possible). And guess what? Once you find the right podcast for you, you can continue this new habit when you actually get back to commuting in your car.
Here are some of our team's favorite marketing-related podcasts.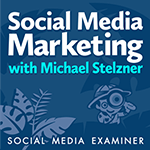 Social Media Marketing with Michael Stelzner
Jasmine's podcast pick, Social Media Marketing with Michael Stelzner, is going to help inspire your social media strategy development because you will get exposure to successes from all sorts of social media experts.
Skill Up by HubSpot
My first pick is Skill Up by HubSpot. It covers topics in each facet of the lifecycle: sales, marketing, and customer service. Episodes are short but they're mighty. Each episode definitely packs a punch. So, if you're wanting to increase your exposure to what's working in multiple facets of your company, it's a must-listen.

The Science of Social Media by Buffer
The second recommendation I've got for you is The Science of Social Media by Buffer. This podcast is going to cover how you can implement social media into your marketing strategy to grow your business and brand.
Online marketing courses for those with more time behind a computer
If you don't have littles at home and you have found your calendar a little freer due to COVID-19-induced physical distancing, why not level up your marketing strategy and tactics through online marketing training courses. Here's a roundup of our own offerings, plus our top picks in the digital marketing community.
Donor Persona Video Training Course
I just launched my latest course, Identifying and Creating Your Nonprofit's Ideal Donor, this new course walks you through the types of personas your organization needs, how to research them, and how to quickly incorporate them into your marketing efforts. Plus, you get access to help along the way and a donor persona review by our team of experts and, best of all, it's free for a limited time. So get access now.
Google Analytics 101: Track Your Marketing Success Course
With Justin's Google Analytics course, you'll learn the fundamentals of measuring and monitoring your marketing campaigns. The course will walk you through setting up conversions, understanding what channels are driving the most conversions, learning what your audience is interested in, and more. And like all of our courses, expert help is only a chat or call away. This course is currently half-off, but the flash sale is ending soon. So sign up and save.
Strategy-focused marketing training
Want to keep your marketing on-trend? HubSpot Academy offers hundreds of strategy-focused marketing training to keep you in the know on the latest trends in digital marketing and help you find what new trends just might help take your marketing efforts and business to the next level.
Online advertising training
Haven't set up online ads yet? Or want to up your online advertising game? WordStream offers a holistic list of its advertising-related training resources at PPC University or Growth Academy. Their training resources offer a multi-channel approach so find the topic in the medium that you learn best in.
Search engine optimization training
Want to increase the reach of your brand organically? Moz Academy is a search engine focused online training platform that will help you increase the ranking of your organization's website. And until May 31, 2020, they are offering access to the entire on-demand library for free. Get to learning while it is still free!
Social media marketing training
Does social media for your business make your head hurt? Social media continues to be everchanging and at times strategically complex. So, why not use some of your extra time to learn more about how to use social media to grow your business. Hootsuite Academy offers tons of lessons to advance your social media skills. And Facebook Blueprint has tons of courses to better utilize Facebook and Instagram.
With all this laid out, most importantly, take care of yourself first and foremost. Don't feel like you have to learn a new tool or build a brand-new, shiny strategy. I know the COVID-struggle is real!! But if you do find yourself wanting to fill some free time and are looking for some help leveling up your marketing, be sure to look into our lists above! Happy learning!