Huntsville, AL: September 20, 2017 Image in a Box is excited to announce that we have won a 2017 WebAward for Best Regional Website!
Excited to announce that we have won a 2017 WebAward for Best Regional Website!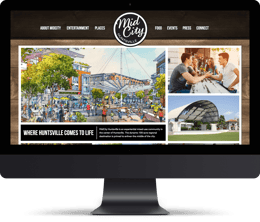 The award is for a website designed, developed, and launched by Image in a Box in 2016, MidCity Huntsville. The MidCity Huntsville website won the Best Regional Website with a near perfect score, 60.5 out of 70!
The websites are judged based on the following criteria: design, innovation, content, technology, interactivity, copywriting, and ease of use by a group of volunteer industry leaders. One judge commented in the site's ability to draw in an audience who may not be interested in the local area, "Really nice site--clean, functional design. Made me think Huntsville might be interesting, which is something I never imagined I would think!"
Congrats to the Image in a Box team and the RCP Companies team on being recognized for your efforts in the website design process!
About Image in a Box
Image in a Box is an innovative and vibrant award-winning digital agency. Located in the heart of Alabama's fastest growing city and one of the nation's rapidly growing technology hubs, the agency embraces ground-breaking new ways of helping its clients with their digital marketing needs. They offer a full range of digital marketing services, including web design, support, inbound marketing, strategy development and web hosting services.