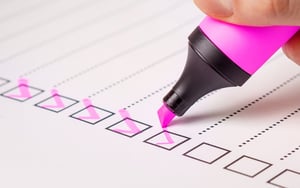 It's important that your nonprofit stands out this Giving Tuesday since it's a global movement. To save you time from endlessly searching for marketing resources and new ideas, we compiled this list of resources that your nonprofit can use to plan for its best Giving Tuesday Campaign yet!
Resources
Here's the list of resources we've compiled to help you build a successful Giving Tuesday campaign. We linked to the landing pages of these resources, so that you can download your own copy!
1. Giving Tuesday: The Complete Toolkit
The Giving Tuesday website provides a toolkit PDF that gives you a rundown of the Giving Tuesday movement and has social media tips, sample press releases and emails, and more! Use this resource to plan out your organization's content.
2. Ebook: How to Design & Optimize Your Nonprofit's Donation Landing Page
We offer this ebook that covers how to effectively plan, design, and execute your nonprofit's donation landing page. Donation landing pages are an integral part of your Giving Tuesday strategy because you don't want your target audience clicking away from your landing page before completing their donation. This ebook contains loads of tips and examples to help you optimize your landing page!
3. Giving Tuesday Resource Toolkit
Classy offers a toolkit that is truly an all-in-one resource for your nonprofit's Giving Tuesday campaign. It contains email templates, stock photos, downloadable postcards, social media templates, a planner, and more!
4. Popular Page Builders for Your Giving Tuesday Campaign
This blog post from Give has a list of great page builders that can help you easily build out your Giving Tuesday landing page. It describes each page builder and links you to the resources you need to get started!
5. Giving Tuesday Nonprofit Campaign Plan Guide & Template
This workbook guide from EveryAction will walk you through creating clear objectives, your target audience, and effective messaging for your nonprofit's Giving Tuesday Campaign. Use this resource to develop a timeline and multichannel media strategy for your campaign.
Tips
Here's a list of informative blog posts that provide ideas and suggestions for your nonprofit's Giving Tuesday campaign!
1. A Nonprofit's Guide to Planning a Giving Tuesday Campaign
Our blog post includes a breakdown of expert tips in each of the main marketing channels you should use to promote your Giving Tuesday campaign: social media, email marketing, offline marketing, and your donation landing page. Refer to this resource when you are planning out your campaign!
2. 5 Inspiring Giving Tuesday Ideas
If you really want your nonprofit to stand out this Giving Tuesday, then take a look at this list of creative Giving Tuesday campaign ideas that Give posted. It provides details on how to do each one and why they work so well.
3. 3 Ways to Pitch a Corporate Partnership for Giving Tuesday
Need ideas on how to ask a business to form a partnership with your organization for your Giving Tuesday campaign? This blog post by Classy covers what you need to have prepared before pitching the idea.
4. 7 Form Placement Tips for More Giving Tuesday Donations
Give's blog post discusses ways to create enough online donation opportunities for your audience. It also includes ways to strategically use your donation form throughout your website. Keep these handy tips in mind when adding donation buttons and forms to your site!
5. Mapping a #GivingTuesday Follow-up Plan
Having an effective follow-up plan after Giving Tuesday can help you keep the momentum of the movement going into the holiday season. HubSpot's blog post walks you through 4 steps to take after Giving Tuesday with your donors to keep the value growing throughout the next year.
These resources will help you and your team spread awareness for your organization's Giving Tuesday campaign! Click here to get started and join the Giving Tuesday movement.