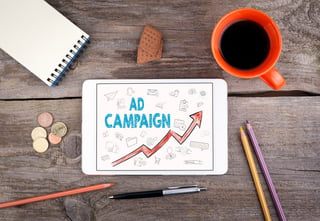 Online advertising offers you the opportunity to promote your products and services through ads that display on search engines, websites, social networks and other internet locations.
With online advertising, you have the option of turning towards an agency to manage your online ads or doing it yourself. While either option can work, you can use the Four When's to help you decide when to use an agency help with your online ads.
When you don't have the expertise
When you don't have the time
When your ROI just isn't what it should be
When you need campaign management ideas
Let's dive into each of these whens so you know when to use an agency to manage your online ads.
When You Don't Have the Expertise
Online advertising has a significant learning curve, which can negatively affect your ROI when you're unfamiliar with this area. While it's possible for you to sit down and gain the expertise, the opportunity costs of trying to pick up a new skill are too high. You're already an expert in your respective field, and it's a much better use of your time to focus on that. We're not saying that you shouldn't constantly be learning, but there is a time to let others do things for you. Agency partners can make this process much easier for you.
Do you know which online advertising platforms make the most sense for your brand direction?
You have many options, and choosing the wrong ones can drain your budget. Agencies help you pick the best platforms for your business objectives and target audience. When you're advertising trendy B2C products, it won't make much sense to use LinkedIn ads. Instagram, on the other hand, would be a perfect match.
An agency partner already has this expertise available. With an agency partner, you can leverage online advertising without spending hundreds of hours learning the ins and outs of this process yourself. You'll be able to spend that time working focusing on larger scale marketing tasks, while the agency handles the online advertising side of things for you.
When You Don't Have the Time
How long is your to-do list for the next week? Month? Year? You already have enough on your plate, and you can't make time appear out of thin air. Online advertising requires a lot of hands-on work, especially when you start looking into ways to optimize your campaigns. And you don't have to handle this all on your own.
An agency can manage your ads for you and they have first-hand experience with a variety of platforms which allows them to complete task much quicker. You can use the extra time in your day to make it to the end of your list and increase your productivity.
When Your ROI Just Isn't What It Should Be
You've tried online advertising campaigns, but the ROI seems off. A lack of time to do the proper planning, lack of expertise and lack of connections reduces ROI and makes it difficult to maximize your ad spend. If you're not sure how to optimize your campaigns, trying to fix the problem could actually make it worse. Reach out to experts so you don't waste your advertising budget.
Agencies already have the expertise and the people to make adjustments to your ads easily. Plus, they typically have connections to your advertising platform of choice, with money-saving discounts and free advertising credits available. Most agencies have significant experience with the ad platforms and know all of the tips and tricks required to make your ads more efficient.
When You Need Campaign Management Ideas
Another complex part of online advertising is managing your campaigns. If you have multiple advertising efforts going on at the same time, it may be difficult to ensure that your branding is consistent across all advertising avenues. A consistent message is important for building customer trust and making sure that each ad contributes to your overall online advertising goals. Trying to coordinate this on your own could lead to mixed messaging and other issues.
Agencies can also help coordinate your ad campaigns so you get the most out of your investment. With and agency, each time someone sees your ads, they will encounter branding that stays on-message and reinforces the overall goals of the campaign. If you use advertising campaigns to complement other marketing efforts, agencies make sure that everything fits in together. Agencies will put together an advertising campaign designed to move prospects through your sales funnel.
Online advertising has the potential to bring significant business to your company, but only if you use it effectively. Learning the ins and outs of every advertising technique and platform is not the best use of your time. Connect with an online advertising agency so you get the most out of your ad budget, without pouring thousands of hours into figuring out how to do it yourself.
Need help planning out your search ads? Let's talk about how we can help! Schedule a free inbound consultation by clicking the button below, and we will discuss your current advertising strategy and ways we can help you grow its effectiveness.